Caroline Cossey
British model
Caroline Cossey
, is sometimes known under her professional name
Tula
. The stunning, six-foot tall brunette was born in 1954, under the unlikely moniker Barry Kenneth Cossey. Though she has achieved the title only through necessity, she is one of the world's most famous male-to-female transsexuals, and the first to ever pose for Playboy.
Since being "outed" by a British tabloid, she has fought for her right to legally marry a man and to be recognized by the law as a woman.
She told her side of the story in the 1992 autobiography My Story (ISBN 0571129099). Though she was born biologically male, she was said to pass so flawlessly because she was always extremely feminine. Tall and thin, she was often mistaken for female even before her transition beginning at the age of 16. Both prior to and following breast augmentation surgery, she performed as a showgirl in Paris, France. However, after the surgery, she danced topless, which helped her to earn money for her sexual reassignment surgery She eventually had the surgery at London's Charing Cross Hospital.
Once through with transition, she achieved moderate success as an up-and-coming model. She was also cast as a Bond girl in the 1981 movie For Your Eyes Only and she was featured in the music video "Some Like it Hot" by Power Station.
She married Elias Fattal on May 21, 1989, but the union only lasted until June 11, 1989, when they divorced. Her second wedding was to David Finch in 1992. As recently as 1998, the two were still married and living in the US.
You Can Visit the Caroline Cossey website by clicking here
Eddie Izzard
Eddie Izzard
(born February 7, 1962) is a British stand-up comedian and actor. He has a very individual style of rambling, surreal monologue, and tries, when possible, to perform his shows in the local language.
Izzard describes himself as an 'executive' or 'action' transvestite and as 'a male tomboy'. He regularly cross-dresses both on and off stage and makes it clear that cross-dressing is, for him, not a sexual thing - he simply enjoys wearing make-up and clothing which is traditionally perceived in the West as female-only (elsewhere in the world, men often utilize varieties of 'skirts', 'dresses' and cosmetics).
He was born in Aden, Yemen, as the youngest son of John and Ella Izzard. He grew up in Belfast (Northern Ireland), Skewen (Wales), and Bexhill-on-Sea(East Sussex, England. His mother died in March, 1968.
Eddie Izzard briefly attended the University of Sheffield. In July 2003, he was made an honorary Doctor of Letters by the University of East Anglia in Norwich, England for 'pro-Europe campaigning', 'his contribution to promoting modern languages and tolerance of other cultures and lifestyles' and for having 'transcended national barriers' with his humour.
His 2004 world tour was titled Sexie.
You can visit the offical Eddie Izzard web site by clicking here
Kamikawa Aya
Kamikawa Aya
, is a Tokyo municipal official, the first transsexual person to seek elected office in Japan. She was elected in April 2003.
Ms. Kamikawa, a 35-year-old writer, submitted her election papers with a blank space for "sex." Her birth documents, wherein she is listed as male, cannot be altered under Japanese law. However, she was permitted to run as a woman. This was hailed as a victory for transsexual rights in Japan.
Running as an independent, she won her seat, placing sixth of 72 candidates running for 52 seats in the Setagaya municipal assembly, a district in Tokyo. Despite an announcement that the government would continue to consider her male for other purposes, she declared that she would sit as a woman. Her platform was to improve rights for women, children, the elderly, the handicapped, and sexual minorities.
Mianne Bagger
Mianne Bagger (born December 25, 1966) is a transsexual golfer from Denmark. Bagger took up golf at the age of eight. At the age of 14, she was pictured with golf legend Greg Norman during a golf clinic.
Mianne Bagger moved to Australia in 1992. In 1995, she had sexual realignment surgery. In 1998, she returned to golf, as an amateur in Australia.
When she began her golf career, she caused a media stir. Many golf fans argued that her being born a male could give her an advantage over other, natural born female competitors. Bagger answered by saying that many people dont understand the concept of sexual realignment surgery. But since the Australian Women's Golf Association has no ban against transgendered females, she was welcomed to play there. As a matter of a fact, the association's president, Sally Hamersley, is a friend of Bagger. Laura Davies and Rachel Teske are golfers who are also among Bagger's friends.
In 1999, Bagger won her first South-Australian championship, repeating as champion in 2001 and 2003.
She caused another media stir in 2003, when she attempted to join the LPGA. LPGA commisioner Ty Votaw said right now, our rule is that they have to be born women. However, he left the possibility open for that rule to change in the future.
Click here to visit the Mianne Bagger web site
Georgina Beyer
Georgina Beyer is the world's first transsexual Member of Parliament, and is current (2004) MP for the Wairarapa electorate in New Zealand.
Born George Bertrand in 1957 in Wellington, a Maori of Te Ati Awa, Ngati Mutunga, Ngati Raukawa and Ngati Porou descent, he spent his early childhood on his grandparents' farm in Taranaki. Later he shifted to Wellington to live with his mother, who had subsequently married Colin Beyer, a prominent lawyer. Shortly after leaving school, George discovered Wellington's gay scene, and at the age of 17 realised she was transsexual.
Adopting the name Georgina, she became a stripper and prostitute working in nightclubs and on the street. She eventually gravitated to Kings Cross, Sydney, probably Australasia's most notorious red light district. There she foolishly got into a car with four men who brutally raped her. This incident apparently persuaded her to seek to change the course of her life.
Returning to New Zealand she continued to work as a stripper and drag queen, but also began seeking work as an actor with gradually increasing success, culminating in a Gofta award. At this time she also finally underwent sexual reassignment surgery.
After shifting to Carterton in Wairarapa she worked as a radio host. She also began to take an interest in local politics, first winning election to a local school board, and subsequently being elected mayor of Carterton in 1995, serving in that role until 2000. This made her the world's first transsexual mayor.
In 2002 she surprised the political commentators by beating National's Paul Henry to win the Wairarapa seat for Labour and become the world's first transsexual MP.
In March 2004 she was Deputy Chairperson of the Law and Order Select Committee and Chairperson of the Social Services Select Committee when she announced that she would leave parliament at the next election to focus on other matters.
Georgina has become an instantly recognisable New Zealand personality and is widely admired for her intelligence and wit and her maiden speech to parliament is regarded as one of the best. Traditionally, newly-elected MPs have the floor for 10 minutes to introduce themselves to their new colleagues. An excerpt from her speech follows.
Mr. Speaker, I can't help but mention the number of firsts that are in this Parliament. Our first Rastafarian ... our first Polynesian woman ... and yes, I have to say it, I guess, I am the first transsexual in New Zealand to be standing in this House of Parliament. This is a first not only in New Zealand, ladies and gentlemen, but also in the world. This is an historic moment. We need to acknowledge that this country of ours leads the way in so many aspects. We have led the way for women getting the vote. We have led the way in the past, and I hope we will do so again in the future in social policy and certainly in human rights.
Shortly afterwards, she brought the house down:
I was quoted once as saying that 'This was the stallion that became a gelding, and now she's a mayor.'* I suppose I do have to say that I have now found myself to be a Member! So I have come full circle, so to speak.
*In New Zealand "mayor" is pronounced much like "mare".
Wendy Carlos
Wendy Carlos (born Walter Carlos, November 14, 1939) American composer and electronic musician. Carlos was born in Pawtucket, Rhode Island.
Wendy Carlos was one of the first famous performers of electronic music using synthesisers. Her first recordings were released under her birth name - being a transsexual woman, she changed her name to Wendy Carlos.
She underwent sexual reassignment surgery in 1972. The last release to be credited to her old name was "Sonic Seasonings" (1972). The first as Wendy was the TRON soundtrack (1982), which was released on CD in 2002.
Notable works by Wendy Carlos:
Switched-on Bach (1968)
The Well-Tempered Synthesizer
Switched-on Bach II
Switched-on Brandenburgs
Beauty In The Beast
A Clockwork Orange (soundtrack)
Disney's TRON (soundtrack)
Tales of Heaven and Hell
Switched-on Bach 2000 (2000)
Click here to visit the Wendy Carlos web site
Mary Ann Horton
Mary Ann Horton
, also
Mark R. Horton
, was a Usenet pioneer who has the distinction of being the author of the oldest post archived by Google Groups (dating 1981).
Horton is transgendered (bi-gendered), and freely presents as both Mark and Mary Ann.
Dana International
Dana International (artist name of Sharon Cohen, born Yaron Cohen February 2, 1972) is an Israeli transsexual pop singer, who won the 1998 Eurovision Song Contest for her song "Diva". She had a sex-change operation in 1992.
Her entry into the contest caused some uproar in Israel where certain religious politicians called for her to be replaced with a more conservative act. Other religious politicians found her act amusing and typical for the secular Jewish culture of Israel.
Next to original songs, Dana is known for her cover versions of old hits.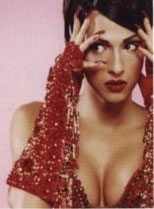 Grayson Perry
Grayson Perry (born 1960) is an English artist, best known for his ceramics. He has also worked in other forms, including drawing and embroidery, and has written a graphic novel, Cycle of Violence.
Perry was born in Chelmsford in Essex. He studied fine art at Portsmouth Polytechnic and took evening classes in pottery.
Perry's vases have classical forms and are decorated in bright colours. The subjects tackled by the decoration is often at odds with its superficially attractive and genteel nature: child abuse (in Wešve Found the Body of your Child, 2000) and sadomasochism sometimes feature, among other comments on social and sexual practices. There is often a strong autobiographical element.
Images of Perry himself also frequently feature in his work. Sometimes it is his cross-dressing alter ego Claire who appears. Mother of all Battles (1996), for example, is a photograph depicting Claire holding a gun and wearing a dress in the style of Eastern European folk dress embroidered with images of war.
Perry won the 2003 Turner Prize.
Kate Bornstein
Kate Bornstein is a transgender author, playwright, performance artist and gender theorist.
Born Albert Bornstein, she underwent sex reassignment surgery in 1986.
"I know I'm not a man...and I've come to the conclusion that I'm probably not a woman, either...The trouble is, we're living in a world that insists we be one or the other." --Kate Bornstein in Gender Outlaw: On Men, Women, and the Rest of Us
Books by Kate Bornstein
Gender Outlaw - On Men, Women, and the Rest of Us 1997, ISBN 0415916739 (paperback) ISBN 0415916720 (hardcover)
My Gender Workbook: How to Become a Real Man, a Real Woman, the Real You, or Something Else Entirely 1994, ISBN 0679757015
Nearly Roadkill: An Infobahn Erotic Adventure (Novel, co-authored with Caitlin Sullivan), 1996, ASIN 1852424184
Play's
The Opposite Sex Is Neither
Virtually Yours
Hidden: A Gender
Strangers in Paradox
Website of Kate Bornstein and Barbara Carrellas